Nationwide Repair Warranty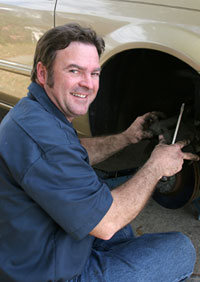 The ABS Nationwide Parts & Labor Repair Warranty has proven to drive customer acquisition and build loyalty for our national accounts and their auto repair facility customers. It provides coverage for service and repair work performed at participating shops – it is active when consumers travel away from the original repair facility and experience a repair failure. It is an extremely valuable marketing tool because shops can now promote the fact that their work is covered nationwide.
From a program group or parts distributor perspective, the Nationwide Repair Warranty is an excellent way to provide added value to your customers and to tie them more closely to you. It works very well as a key element in an affiliated shop program. And nobody provides nationwide warranty administration more effectively than ABS. With ABS you receive:
Fastest claims payment – claims are paid in minutes, not days or weeks

Superior Repair Warranty administration experience and technical expertise

Over 35,000 repair facilities nationwide that honor our warranties

Private labeled programs – it is your branded program and we answer the telephone in your name, ABS is "invisible" to your customers

Flexibility to create and administer a program tailored to meet your needs

Absolutely the best warranty administration value!
Please
click here to request more information
, or call us at 888-268-4888 .
"The professionals at ABS are very easy to work with and VERY customer friendly, taking the extra step to ensure the customer is taken care of without abusing the program. Their reimbursement procedures are fair and very timely, resolving less than ideal situations quickly and turning them from a negative into a positive.

Our Warranty and Roadside Assistance programs through ABS are two of the most important features of our shop program. We have switched from others vendors to ABS because they do what they say they will do, AND more. If you are looking for a business partner that will work with you to provide tremendous programs at an affordable rate, you need to contact Automotive Business Solutions."
—Gil Gunn,
VP Marketing/Training
The Network (Parts Plus, Auto Pride, IAPA)
"Their personnel have gone above and beyond what would be expected in order to make sure a warranty holder is taken care of regardless of the circumstances. The value of service in turn helps reinforce the relationship with our dealers.

Everyone I have had contact with at ABS has been professional, responsive, helpful, and dedicated to making our warranty programs successful, and I am very happy to recommend ABS as an outstanding automotive warranty administrator."
—Donna Zvanut,
American Tire Distributors