Nationwide Road Hazard Program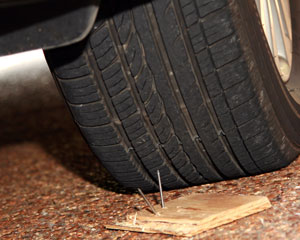 Tire Road Hazard programs have proven value. They provide consumers with valuable protection, while giving tire retailers a consistent source of revenue from plan sales and claim fulfillment.
National Accounts Road Hazard Solutions
We administer excellent, tailored road hazard solutions for large groups and national accounts that supply unique and valuable benefits to their associated tire dealers and the dealers' customers. We provide private labeled road hazard solutions that include ABS completely administering our client's program and ABS administering the plan only outside 25 miles from the participating tire dealer – and we can do pretty much anything in between, with a variety of coverage parameter options.
Road Hazard Program for Independent Tire Dealers
The ABS Nationwide Road Hazard Plan is designed to offer real value to tire customers as well as tire retailers. The concept is simple – tire dealers offer customers coverage for road hazard damage, which isn't covered by any tire manufacturers warranty. By doing so, they create a new line of revenue from the profit made on road hazard plan sales, as well as from the fulfillment of claims incurred under the plan (we pay you to repair and replace tires). We make the whole process easy and convenient.
At ABS, we don't believe in changing the parameters of the programs every other year – we believe in creating an exceptional program from the start. Some of the features of our web-based Nationwide Road Hazard Plan are:
No upfront cost – you are billed after you sell

Nationwide coverage – thousands of dealers, in all 50 states

Claims generally paid in less than 30 minutes – option to file claims by phone or online

Free Tire Replacement and Tire Repair

Nationwide Flat Tire Changing Assistance

Simple flat percentage pricing
To learn more about the Automotive Business Solutions' Tire Road Hazard Plan, please visit MyRoadHazard.com.
Please click here to request more information, or call us at 888-268-4888.
"It's another valuable service for our customers because it protects their tires. With ABS, claims are much easier to process. On our old program it would take up to a month to get paid, ABS pays claims immediately."
-Jerry Gonzalez, Oasis Tire, El Paso, TX
"Customers love it because it covers them nationwide. The overall service on the program has been great. Claims are paid on time, right away. It works great!"
—Ernest Roman, Swift Car Care, Chicago, IL
"ABS provides the best value. We used other companies in the past, but we had to fi­ght with them to get claims paid. Now claims are paid quickly. The plan is easy to use, seamless, and efficient. We are very, very pleased."
—Hank Feldman, Performance Plus Tire, Long Beach, CA
"The fact that our customers are protected nationwide is a big selling point. Our road hazard sales are quadruple from what they were with our old system."
—Mike Hartman, Fat Boys Tire & Auto, Cheyenne, WY
"This program provides better coverage than running my own program and is more cost competitive. It's cut and dried for customers - it's there in writing, either they bought the plan and they have coverage or they didn't. It works great!"
—Neal McNutt, Arizona Firestone, Chandler, AZ
"We had looked at other plans where you had to pre-pay for everything, but we didn't like paying in advance. This is easy to use. It works real good for us."
—Steve McMahan, Ralph & Sons Tire Center, Chickasha, OK